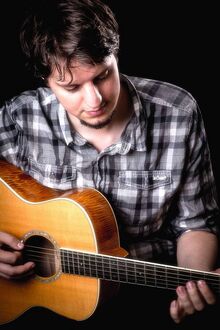 One of the founding members of The Longest Johns, "JD" takes the role of Bass for the group.
JD has nearly a decade of experience as a musician, and has a history as an actor in a number of theatrical musical productions. In addition he has played in a wide number of bands, including This Eden with Sam Darley, The Vapour Trails, The Boulevards(with which Andy also played), The Bean Baker Band, Hot Pursuit, For Want of Rain, Lucy John Paul, and The Southern Sons. In addition, he has also performed with the Fisherman's Friends as a stand-in. He plays guitar, ukelele, double bass, and keyboard. He also has experience as a composer, though details of his compositions are scarce.
In the past half-decade JD has also launched a successful voice-acting career working with Inimitable, a Bristol-based voice acting agency, and he is credited on numerous advertisements (including but not limited to Lexus, Barclays, Marriott Hotels). In addition, in the last year JD co-founded Caraway Studios, a media production company that aims to handle videography for music videos and weddings.