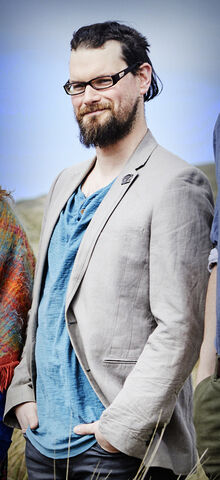 Dave is one of the founding members of the Longest Johns and sings Tenor. (source) He also appears to take the role of songwriter for the group.
Dave is a very talented theatre technician with over a decade of experience in lighting and sound design, and has been involved in numerous theatrical productions and music tours since 2007. The list of projects he handled sound and light for include but are not limited to: the Luv Esther theatrical tour (2007-2009), Thundershock's No Turning Back tour (2007), the Narrow Road theatrical tour, Origins & Lemons theatrical tour, The Prodigals theatrical tour, Monsieur de Coubertin's Magnificent Opymlic© Feat theatrical tour, Inheritance theatrical tour. He handled lighting for some video shoots for Hot Pursuit (a band of which JD is a member) and may also have handled lighting and sound for The Boulevards (a band of which Andy is a member). In addition to all of this, Dave is credited as having handled lighting and sound design for several years of events New Generation Music and more than a half dozen years of Nancy Goudie's Spiritual Health Weekend events. Dave has been involved in countless theatre companies.
In 2006 both Dave and Robbie attended the same music college, and went on to tour with a band that formed out of that college called Thundershock, Thundershock was later joined by Katie Sky and the band changed its name to On Off Switch. Unfortunately, no recordings of Thundershock appear to be available online. Dave also played accordion in For Want of Rain , a project Andy started to showcase the music of various artists.