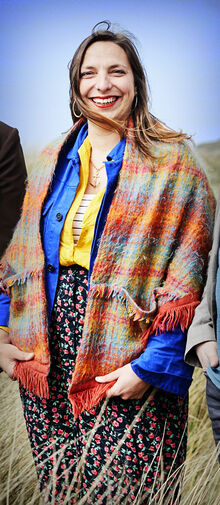 The most recent vocalist to join The Longest Johns, Anna became part of the band officially on November 1 2017, having sung with them for several months (as early as July 2017). Beyond that, details about Anna's vocal career and musical background are somewhat shrouded in mystery, with details difficult to find online.
On October 2 2019 Anna announced she would be stepping back from work with TLJ to focus on other projects, such as the forthcoming Norfolk Broads Album, with intent to return at a later time.
She is also a vocalist with the Norfolk Broads.
From the Norfolk Broads website.
The Norfolk Broads are a four-piece female ensemble who enjoy singing low-pitched folk songs about love, despair and dastardly boyfriends.


They bonded over maritime work songs and failed romances in the alto section of the Trad Academy Sea Shanty Choir, deciding to form a girl-group during a long car ride to Cornwall in 2014. Since then, they have performed their spirited harmonies at festivals and venues in London and further afield, including the V&A Museum of Childhood, the Museum of London Docklands, on board the Cutty Sark, Wilton's Music Hall, the London Review Bookshop, Folk East festival 2016 and the Minack Theatre.

The Broads supply their repertoire of traditional stories with a very contemporary verve and energy, using old songs to fuel new takes on the lives of women both past and present.



"Young female quartet the Norfolk Broads are strong storytellers...Their close harmonies brought a witty feminist take to a well-curated set of tales of impotence, greedy landlords, and the joys of a single life." ~ The Guardian